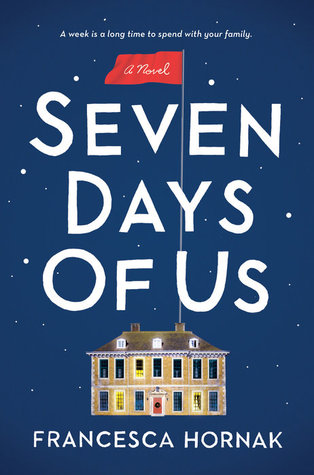 Seven Days of Us by Francesca Hornak
Source: Library – Overdrive Audio book
Genre: Family, Quarantine, Secrets, Siblings
Emma is elated this Christmas. Her eldest daughter Olivia is returned from Liberia and she will have her entire family together for the Christmas and New Year's Holiday. Only, the reality of the gathering doesn't match up to Emma's idealistic expectations. Olivia has been treating an epidemic in Liberia and is put on a seven day quarantine to reduce the risk to transmitting the disease on British soil. No one can leave the house and no one can enter. But how well can this group keep to the basic rules? The sisters quarrel and overtime secrets not meant to be shared are revealed. Spending this time with family shouldn't feel so lonely and detached, but everything changes for this family when someone unexpected comes knocking on their door.
Despite its slow start, the story really began to get interesting and juicy somewhere mid-way. The characters were finally fed-up enough with each other to come out of their cloistered shells. The sister sibling rivalry dynamic was so accurately portrayed. Neither sister feeling like the confident, mature adult they are when with each other, regressing to childhood habits and squabbles. Olivia trying to find her place in the family that has been circling sister Phoebe as coddled little sister. Emma, herself has a scary secret, but not wanting to upset her family, manages to keep the attention off herself. Her husband though….his secret is really what provokes the family to come to terms with their dysfunctional selves. How they overcome such obstacles in a short span of time is intriguing. The author had a wonderful way of stretching out a single day, making it feel like events took place over 2 or 3 days rather than in a morning and afternoon setting. I felt the days drag on with the family, but it didn't feel nearly as painful for as it did for them.
My only complaint is the narrator's American accent. Oh man…it was bad. So bad.